Search Engine
Optimization (SEO)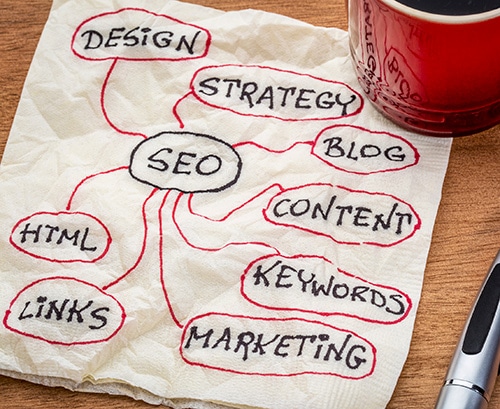 Being found in the major search engines is a goal of most organizations with websites. Search Engine Optimization (SEO) is the term used by online marketers to describe the process of making a website more easily found in a Search Engine's Results Pages (SERP).
In other words, if you want to be "#1 in Google" in the organic (non-paid) position, you will need SEO for your website.
Most people know enough about SEO to be a danger to themselves.
"All you need to do is add in the right keywords into your page and the search engines will rank you."
Yes, it's true. You will be ranked – somewhere in the top 10,000 results.
There are some SEO fundamentals that are ignored by the majority of website owners. Frankly, it's usually because people are lazy. Fortunately, that means it might not take as much work as you think to achieve a top ranking. When you have lazy or cheap competitors, you can use that to your advantage when it comes to search engine optimization.
I have a site that has been in the top 10 results for a very popular Niagara tourism phrase for the past decade. The site hasn't been updated in several years. It is not responsive. It does not use the https:// protocol. It does not have a blog, does not have a social media presence. What's its secret? That's mine, but if you become a client, I guarantee I will share it with you.
SEO takes work. It's not an overnight process, but if you don't start now, it'll take you that much longer to get the results you want.
We can help you design and implement an 'evergreen' SEO strategy that helps keep your site ranked highly regardless of search engine changes. Contact us today to find out how.

SEO Frequently Asked Questions
What Does SEO Stand For?
SEO is an acronym for Search Engine Optimization, which is the term used to describe the techniques used to gain better rankings on the organic rankings on Search Engine Results Pages (SERPS) in Google. SEO benefits positioning in Bing and Yahoo as well, but to be honest, almost nobody has asked us about getting better rankings in those search engines.
What are organic results? Are there non-organic results?
Organic results are search engine positions attained without paying for advertising. All search engines display advertisements. If you've paid for advertising with a search engine, you have paid for non-organic positioning. Some companies use a combination of paid and organic results to reach their target audience through search engines.
What is a SERP?
SERP is an acronym for Search Engine Results Page. If you want to be #1 in Google, you're asking to be found in the 1st position on the 1st SERP.
I've been told my meta tags aren't optimized. What does this mean?
A META tag refers to coding found at the start of your webpage that defines the title and description of your page, along with other items. The meta tag for titles is considered one of the more important items for SEO on a webpage. Meta tags for descriptions are important as well as a search engine will often use the predefined description from the meta tag for the text they display about your webpage on the SERPs. In the early days of SEO, the keyword meta tag used to be important. Google hasn't used the keyword meta tag for years, so the tag is largely considered irrelevant by SEO professionals.
What is "Keyword Density"?
This term refers to how many times a particularly keyword (or key phrase) is found on your website relative to the amount of text on a webpage. SEO professionals used to measure this, but as Google's algorithm evolved, keyword density has become less important. There is no "right" density, but you can have use keywords too often on a page.
I'm told links are important for SEO. Is this true, and if so, why?
One measure of a website's value is how many other websites link to it. Google aims to provide its users with the best results possible, so their algorithm has been constantly refined over the years. Inbound links to your website from other websites have been an important ranking factor since Google's early days. Your site's internal linking structure is also important as it allows Google's bots to crawl your website and index it properly.
I received an email telling me my site can't be found in the search engines for a variety of keywords. Help!
Reputable SEO companies don't send out unsolicited commercial email (UCE, or more commonly known as SPAM). Truth is, most sites won't necessarily show up on the first page of Google's SERPs for every single keyword or phrase relevant to their industry. Most sites can improve their SEO. Hiring a company to do your SEO that contacts you using spam could do more harm than good.
Can I do SEO myself?
Of course! If you're willing to put in the time and effort to learn how to do SEO, you can do it! The advantage that SEO professionals bring to the table is experience, systems and persistence. Attaining and keeping top rankings in the SERPs takes time and effort. If you're willing to make the investment yourself, go ahead. If you have more important things to do with your time, then hire a professional.
I have top rankings in Google, but I'm not getting customers. Why?
A top ranking doesn't guarantee you customers. If your site's got great rankings but your site analytics show there aren't many visitors to your site, then you probably have rankings for search terms that aren't popular with your target audience. If you're getting lots of traffic from your top rankings but nobody's buying from you, then your page isn't converting well. We can help you with both issues.
I got an email from a company that says they will guarantee me top rankings in Google. Should I hire them?
No company can guarantee top rankings in Google. Nobody reputable will guarantee this. Companies playing to the hopes and fears of business owners will make this claim. If they get you top rankings, it will probably be for keywords or phrases that aren't commonly used by your target audience. We recommend you avoid companies that make guarantees as they are taking advantage of people who know little about SEO.
I'm told that I should just blog regularly to improve my SEO. Is this true?
Sort of. Google's algorithm seems to favour fresh, unique content. Blogging will provide unique content on a regular basis, so that's good. Most SEO professionals agree that Google's algorithm favours content at least 300 words in length, and some studies show that longer content ranks higher. Good content is important for SEO, as are many other factors. Blogging regularly can be a good way to provide this content to Google.
I don't have any keyword meta tags. Is this a problem?
A meta tag is found in the <head> section of a webpage, and looks like <meta name="keywords" content="insert keywords here">. Google hasn't used keyword meta tags as part of their ranking algorithm in years. Anyone who tells you they are important to get top rankings in Google is using outdated information.
Okay – so keyword meta tags aren't important. How does Google know how to rank my page for the keywords I want to be found under?
There are a lot of smart engineers at Google who are constantly thinking about how to provide the most relevant search results. There are dozens and dozens of factors that determine how well your site ranks in general. Google's algorithm has been designed to be smart enough to evaluate the context of a page, within the context of a website and other external factors to decide how a site should be ranked. Because of this, a site can rank well even if the keyword phrase doesn't appear on the page.
Let's look at the phrase "Niagara SEO". I have used that search phrase exactly ONCE in the body content on this page. You just read it around 5 seconds ago for the first time. Why does Google rank this page the way it does? Because this page talks about SEO, search engine optimization, SERPs, meta tags and other terms that are related to SEO, and it also uses the word Niagara a few times. Could this page be ranked higher for that phrase? Perhaps. SEO is a never-ending task, so I anticipate this page's position in the SERPs will fluctuate over time.
What kind of ROI can I expect from a SEO campaign?
That depends on the nature of your business. Do you sell low or high margin items? How competitive is your industry? We can help you determine whether SEO is the best choice for your marketing dollar.
My site had great search engine positioning, then it dropped. What gives?
There are a number of things that could be at play. Google could have updated their algorithms. Your competition might have been paying attention to your site's rise in the SERPs and decided to do something about it. Another less likely possibility is that someone has started a negative SEO campaign against your site. If you're not sure what's going on, give us a call. We can help you find out what's going on and help you plot a path forward.
Is SEO ever finished?
Short answer: no. Did you see the above question? Stuff changes. This page itself has fluctuated between #3 and #30 over the past year. Will you always be #1 in the search engines? Possibly, if you're doing many things right, but there's no guarantee, and when your position changes, you have to respond in order to get your rankings back. Your competition never stays still, and neither do search engines. Search engine optimization is never, ever "done". It's possible that some elements of SEO can be completed, but when your rankings drop you must take action to get them back.
You're based in Thorold, Ontario. Do you work out of your local area?
Yes! We love living and working in Thorold. Being in the heart of the Niagara peninsula is fabulous and we're glad we relocated here from Toronto many, many years ago. We work for companies throughout Niagara, from Niagara Falls in the east to Grimsby in the west; from Port Colborne in the south to St. Catharines in the north. Our customers are mostly in the GTA (Hamilton, Burlington, Oakville, Mississauga, Toronto, Markham and beyond), but we also serve customers in the Ottawa area as well as in Nova Scotia and have had customers all over Canada and the United States. It doesn't really matter where a company is based. If they're good at search engine optimization, they're good.
BTW, if you're with an American firm and you're looking for SEO services, keep in mind that with the exchange rate, your dollar can go further by hiring a Canadian SEO company!

SEO Myths in 2020
There is a "Magic" Keyword Density
I know people have a hard time remember what they did last week never mind what happened years ago. In 2013, Google rolled out a major change to their algorithm called "Hummingbird". This update essentially wiped out any importance keyword density may have had. This algorithm marked the shift towards semantic search in Google. This means Google wants to deliver results that are relevant to the searcher's intent. Google's algorithm looks at the whole page to determine the context of the page, as well as indexing its content. The idea of keyword density should be dead.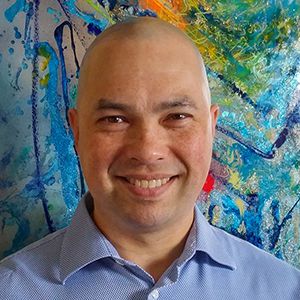 We are happy to answer any questions you may have about any aspect of online marketing. Please send us your questions. We'll do our best to answer each and every one of them promptly.
Search Engine Articles From Our Blog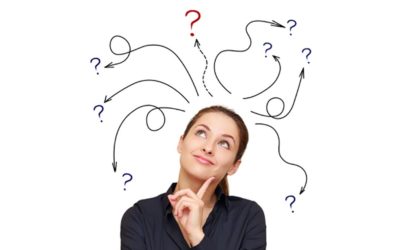 Business owners are constantly asking me questions about websites, social media, blogging, email, e-commerce, Google, video marketing, and all other manner of things related to using online marketing tools to get more business. It's interesting to realize that even...

The Web For Business.com is a consultancy specializing in online lead generation, website development, inbound marketing, social media marketing and more. We help our clients with the development of responsive websites with useful information that we help market to their target audiences. We're happy when you're happy and we hope we can be of service soon!